3 Fun Recipes Straight from the North Pole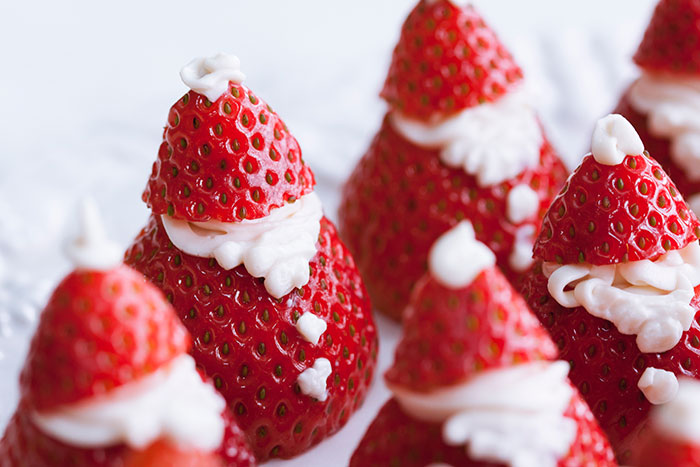 As the Christmas season draws near, we wanted to share these simple and fun recipes straight from Santa's kitchen to yours. Each recipe is wonderfully delicious, and they only take a couple minutes to prepare from start to finish.
Strawberry Santas
Strawberry Santas are super fun to make and even more fun to eat, but they can be really hard to find fresh during the holidays. That's why Mrs. Claus saves them for the summertime, when strawberries are at their ripest.
Even the smallest Elves can help prepare the perfect after-school snack. Simply use plastic butter knives to keep this recipe safe for the whole family.
Here's what you'll need to do:
Cut the leafy portion off of the berry and set it aside.
Next, cut the pointy tip of the berry off too, which will later become Santa's hat.
Turn the larger berry portion upside down so that the fatter end is sitting on the plate.
Squirt a dollop of cream onto the top of this berry, add the hat, and then a tiny pom-pom of cream for the top of it.
Don't forget his buttons! Complete your Santa by using sprinkles or chocolate chips for eyes. This fun snack is as tasty as it is quick!
Melted Snowman Cookies
Even snowmen love fun in the sun, but too much can turn them into a puddle of liquid snow. Thankfully, magic snowmen can melt painlessly and return good as new, so don't worry – no snowmen were harmed in the making of these cookies.
All you need to complete this fun North Pole favorite is a batch of pre-made cookies (straight out of a box will do), warm icing, food markers, sprinkles, and halved large marshmallows.
Start by pouring warm icing in a puddle onto the middle of a cookie.
Take a marshmallow half and draw on a carrot nose and eyes.
Stick your snowman head on top of the icing, adding two sprinkles to the puddle of icing for buttons.
Holly Jolly Healthy Treats
Santa tries his best to watch his figure during summer vacation because, after all, that jiggly, jolly belly is not always easy to fit into swim trunks! That's why Mrs. Claus makes certain to keep these healthy holly jolly treats in the fridge all summer long.
Cut the leafy portion off of a strawberry and cut a banana into fourths.
Press two raisins into a banana piece for eyes.
Squish down two marshmallows and set aside.
Assemble your holly jolly treats into the shape of Santa by stacking the ingredients like so: squished marshmallow, banana with raisin eyes, squished marshmallow, upside down strawberry piece.
If you like, you can embellish Santa's hat by adding a dollop of whipped cream as a pom-pom.
Still haven't gotten your fill of sunshiny, Christmas fun? We get it. We can never get enough Christmas either. You can add Christmastime fun to your family year round with your very own Elf straight from the North Pole. There is no better time than summer to bring home a little Elf Magic. Write Santa today to ask for an Elf to come visit!