Christmas Eve Traditions: Saying Goodbye to Your Elf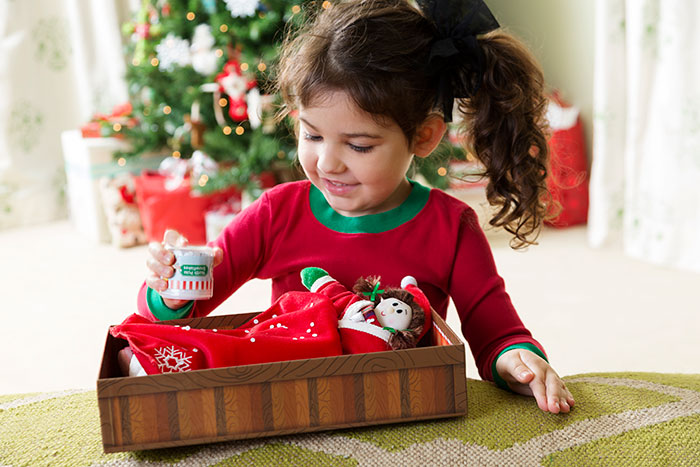 Christmas Eve is one of the most exciting days of the year! Santa is coming, and presents are under the tree. But it can also be a tough day when your Elf has to return to the North Pole. This year, make a tradition to send off your Elf in style to make saying goodbye to your Elf a little easier for the youngsters.
The Elf Express
Set up an electric train, or any other type of train, near your Christmas tree.
On Christmas Eve, just before bedtime, settle into a comfy chair with your child and their Elf. Read, The Polar Express by Chris Van Allsburg.
After reading the story, place a small plate of crackers and ice water next to the train so that their Elf has a snack before his long journey to the North Pole. Set the Elf beside or on top of the train. Tell them good night and give them one last hug before bedtime.
In the morning, your Elf will be gone, but they usually leave behind some crumbs and a note thanking your family for the great time they had together this year.
Up the Chimney He Goes
Or, your Elf can leave via the Chimney, just like St. Nick.
Read The Night Before Christmas, by Clement Clark Moore.
Sit your Elf next to the chimney, with a plate of crackers and ice water. Have your child say their goodbyes.
Settle in for a long winter nap knowing their Elf is on their way to the North Pole and that you will all see them again next year.
A Magical Sled Ride
If you live where Christmas and snow often arrive together, you might want to send your Elf on a magical sled ride to the North Pole.
Snuggle up for one last story time with your Elf and The Christmas Sled by Carol North. If there is fresh snow available, make some snow ice cream to enjoy before saying your goodbyes.
Place the sled by the front door on the beautiful white snow. Wrap your Elf warmly in a small Christmas blanket. Tuck in a cracker or two for him to eat on his trip, and wish him safe journeys and a safe return next year.
When you up in the morning, your Elf will be gone, but their sled usually returns with a gift!
Remind your child, especially if he is reluctant to let their special friend leave, that they can return at any time.