Halloween Costumes for Kids Who Just Can't Wait for Christmas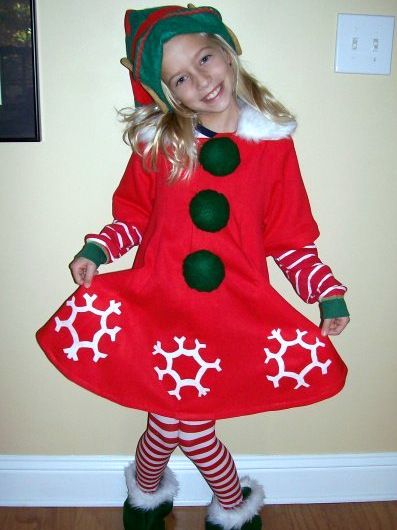 Some kids just can't wait to get into the Christmas spirit until after Thanksgiving. If you have one of these kids, we have the answer for how to add a little Christmas magic into your Halloween. Christmas-themed Halloween costumes are a unique and fun way to get the pre-Christmas jitters out. These costumes also have the added benefits of being easy to put together, providing plenty of warmth for cold nights of trick-or-treating, and allowing your child's favorite Elf friend to join in the fun!
An Elf Magic Elf:
This one is a no-brainer! Create a costume that matches the outfit of your child's beloved Elf. Here are a few things you will need:
Red or green sweatshirt
White sneakers
Santa-style hat
Green or red mittens
Large green or red pom-poms
Red and green fabric paint
Paper
Glue
White tights for girls and a large black belt for boys
Have your child help you paint the sneakers their preferred color and glue a big pom-pom on each toe. Cut out a paper snowflake and pin it to the front of their sweatshirt. You can pin some pom-poms down the front of their sweatshirt or jumper as well. For girls, if they don't already have striped leggings, you can also paint a plain white pair of tights with green or white stripes. Use an eyeliner pen to draw freckles and blush for big rosy cheeks. Your little Elf will have never looked so cute!
Santa / Mrs. Claus:
If you are going to do Christmas, you might as well go all out! For boys you will need:
A red sweatshirt and sweatpants
Black shoes
Black belt
Santa hat and a big cloth bag
For girls you will need:
A red dress
White apron
White winter hat and black boots
Both costumes will also require white pom-poms or cotton balls for a Santa beard and a Mrs. Claus wig. The Santa Claus beard can be made with glue, paper, string and the white cotton balls or pom-poms. Mrs. Claus' wig can be made by hot gluing the pom-poms or cotton balls to a white winter hat. Add rosy cheeks and noses for both, and don't forget to invite your Elf friend to tag along!
Magical Reindeer:
This is cute for both boys and girls! You will need:
A tan sweatshirt and sweatpants
Black shoes
Black mittens
A sturdy headband
A pair of chop sticks
Paper
Tape
Wire
Add a few wire branches to each chop stick, then wrap both the wood and wire with a thick layer of brown paper tape. Use hot or super glue to secure the antlers to the head band. Use brown and white paper or fabric swatches to create ears and a tail. Add a big red nose with lip stick and you're set! Your child and their Elf will be ready to fly away into the sky!
Remember, any costume you make for your child, you can make a mini version for your Elf! Elves may be the spirit of Christmas, but that doesn't mean they can't have fun all year long!