Creative Spring-Break Activities For Kids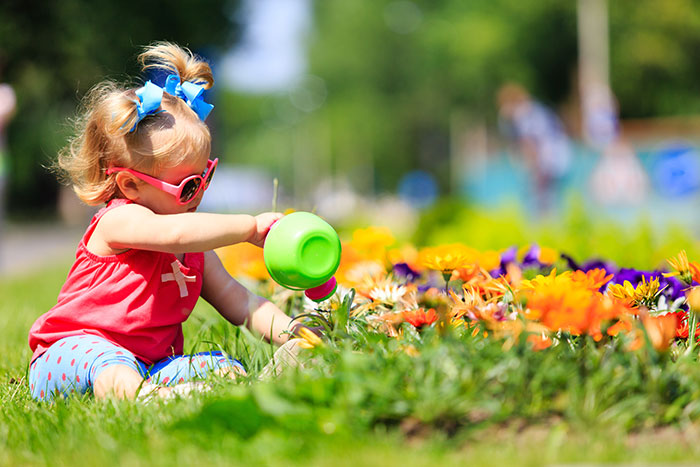 In the kid world, spring break is one of the most anticipated weeks of the year. The warming weather and the promise of longer days to play outside make the short vacation from school even more exciting. But in the parent world, spring break can get hectic. Make spring break for fun everyone with these creative spring break activities and projects to keep kids engaged and active:
Picasso With A Plastic Bag
Art is perfect for growing minds and little fingers. Playing with paints is a multisensory experience that promotes creative expression and engages kids' senses on a number of levels. The other great thing about this one? There's no mess!
To prep this project, start with a large, plastic zip-top bag. Squeeze different colored paints into the bag and seal the top tightly. Let the kids mix the colors, squeeze the bag, and create colorful designs. When the kids are finished, the whole bag can be cleaned up in a flash!
Grow A Garden
Children love to watch things grow, so gardening is a great way to teach kids about responsibility while having fun in the spring weather.
A few weeks before spring break, start collecting old yogurt containers and other plastic food containers for the seeds to be planted in. Packets of seeds can be picked up at many general and grocery stores. If possible, opt for fast-growing flowers and herbs so the kids can see quick results from their hard work.
Help the kids transfer soil to each of the pots. Show them how to indent the earth and let them place a few seeds in each hole. Make watering the plants and checking for new sprouts a daily event. With some sun, water, and a little love, the plants will grow into beautiful flowers and delicious herbs that the kids will be proud of.
Play Indoor Games
Spring break isn't always full of sunshine. Even when it rains, the whole family can still have a good time with indoor games. Games like these are so fun that even the adults and Elves will want to join in:
Homemade Matching Games: Card matching games are great for improving memory. It's even more fun when you play with cards that you make yourself. A homemade deck of cards is surprisingly easy to make. And you likely already have all the supplies on hand. Uniformly cut card stock and draw pictures for each pair, leaving the back blank. Paint-color samples also work well. When they're finished, mix them up and lay them face down on a table. Everyone takes turns trying to make a match.
Scavenger Hunts: Make a short list of items that can be found around the house or in the yard. Have an adult or child hide special items and watch everyone else try to locate all the items on the list. The items shouldn't be too difficult to find, but don't underestimate the fun of a good challenge: buttons, crayons, and small toys are good options that aren't too easy.
Story Building: Start with a story "seed," such as, "Once upon a time, a princess ran into the woods and…" Now it's the kids' turn to describe what happens next. As the story progresses, each person takes a turn acting out the events in real time. You can use an egg timer to allow each person an equal amount of story telling time.
Make Homemade Play Dough
Sculpting with homemade play dough is a treat any time of the year. This simple recipe can be made with items you have in your pantry and will keep kids busy for hours:
Mix together 1 cup of flour and ¼ cup of salt
Slowly stir in ½ cup water
Add 3 to 5 drops of food coloring
After kneading the dough, you can add more flour or water as needed
Cookie cutters, cups, rolling pins, and silverware can be used to create little works of art. You can even bake the play dough masterpieces until they are dry, and enjoy looking at them for years to come.
Relax, have fun, and have your phone ready to snap pictures of all the memorable moments.