Easter: Your Elf's Other Favorite Holiday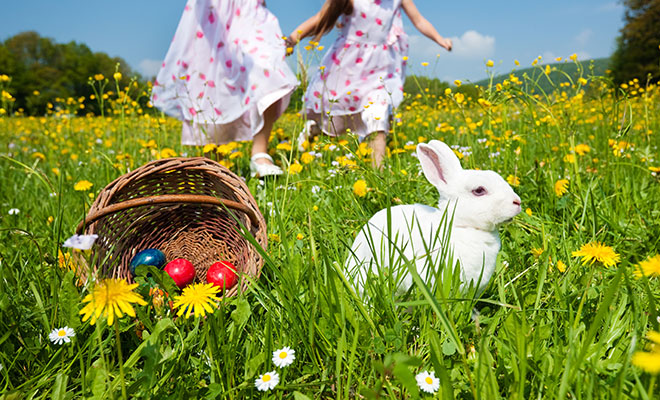 Easter is easily one of the more magical holidays we celebrate. Easter morning egg hunts, adorable bunnies, yummy candy, and the much-anticipated Easter dinner make it an important and playful holiday. And who loves to play more than Elves? Invite your Elf to join in on all of the festivities, decorations, and fun this year. After all, it is one of his favorite holidays. Here are three awesome ways to make your Elf feel right at home this Easter:
1. The Easter Egg Hunt
It's a fact: Elves love candy. But you may not know that they also love to hide and search for things! And since Elves love to be a part of what everyone is doing, be sure to include yours as you hunt for Easter eggs and candy. Elves are small, though, so make sure he has a good view when searching. You may consider letting him ride in an Easter basket among all the goodies, or giving him a VIP position in a backpack he can peek out from and whisper hints.
2. Miniature Easter Gifts For Everyone
Elves know all about giving. They know it's important at Christmas, and they know it's important all year long, too. Your Elf will be so proud to spread a little of his Christmas cheer by helping you shower the kids in your life with little gifts. Here are a few Elf favorites:
Make these tiny Easter baskets out of egg cartons, and place a few pieces of candy inside with a "Happy Easter" card.
Use tiny jars to make small "Easter Gift Gardens." Put some Easter grass in the bottom with a few pieces of Easter candy, small trinkets, toy cars, bouncy balls, bubbles, or jewelry. The possibilities are endless. Use your imagination and enlist your visiting Elf for help with other creative ideas.
3. Create A Unique Tablescape
Family, friends, laughter, and food prepared with love are what make the Easter meal special. Make it even more whimsical by creating a tablescape that everyone will remember:
Place a few stuffed bunnies or colored easter eggs in baskets of Easter grass along a burlap table runner.
Add fresh tulips in wine glasses, tie a flower to each napkin, or fold your cloth napkins like bunnies.
Make name cards for each place setting and decorate them in pastel colors.
Designate a seat for a very important guest: your Elf!
When you think about it, Easter is a special holiday for many of the same reasons that Christmas is. Good food, sweets, fun, and time spent with our loved ones make this spring celebration a favorite for everyone—and especially for Elves.