Easy and Wonderful DIY Christmas Decorations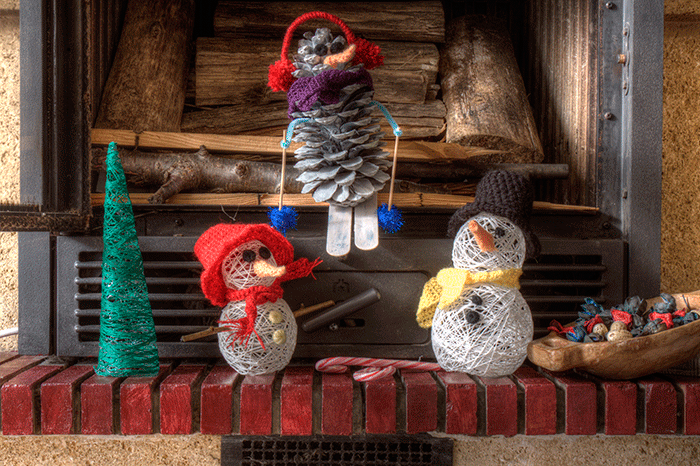 Do you love Christmas decorations but feel overwhelmed by all the work it takes to set them up? Do you go to Christmas craft fairs and admire all those handmade beauties? Of course, no matter how hard we humans try, elves will always be the best decorators. Wherever they go, they bring the most Christmas cheer—which is the most important part of Christmas decorations. Help your Elf feel right at home with these North Pole inspired DIY Christmas decorations:
Snowy Pinecones
Who said that classic and beautiful couldn't be easy?
Take a walk through some woods and gather pinecones. If you don't have access to a forest, you can buy pinecones, but finding them adds to the magic of this craft. Children love to help with this part, especially if you give them a special basket for collecting. And they are very good at it!
Once you have several pinecones, soak them in a bowl full of water, along with a 1/2 cup of white vinegar.
Next, bake them on a foil-lined baking sheet at 200 degrees Fahrenheit for 30 minutes. This will get rid of the sap and kill any bugs that might be living in them.
Once they are completely dry and cooled, squirt white acrylic paint onto a paper plate and dip the tips of the pinecones into the paint. Sprinkle with Epsom salt to give a real snow effect.
Once the paint has dried, place them together on a platter atop a bed of greenery. Alternatively, you may want to use them to fill a large clear vase. Set this up on your dining room table or on a fireplace mantel.
Snowman Refrigerator
This whimsical surprise will give your kitchen some Christmas spice without taking up precious counter space. After all, you need that counter space to make cookies—lots and lots of cookies!
Use black construction paper to make two 4-inch circles for eyes, and eight or nine 2-inch circles for the buttons and the smile.
Cut out one orange triangle to be the nose.
Cut out two 3″x12″ rectangles, one 3″x6″ rectangle, and one 4″x6″ rectangle to create the snowman's scarf. Use a plaid, a polka dot, or other festive pattern for this piece.
Gather all your pieces and either tape them or use magnet strips to attach them to your fridge. To create the scarf, arrange the two large rectangles in a wide v shape underneath the smile, and attach the smaller ones to the point of the v to create a tied scarf look. This is best with a white fridge, but if you have a silver fridge, the idea will still work!
This is such an exciting season. We hope you use this inspiration to create some extra fun in your house this holiday season, and enjoy all the magic that comes your way.