Fall Sensory Activities for Kids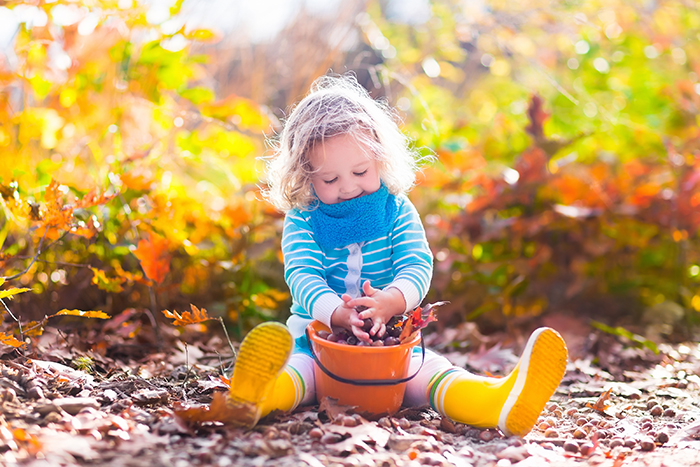 The arrival of fall brings a great opportunity for plenty of sensory play for little ones. This is a great way to encourage fine motor skill development, encourage your child to develop awareness of all sorts of textures, and convince them to step outside of their comfort zone. However, these fall activities aren't just for little ones! You may find that the whole family enjoys being part of them.
Make a pumpkin mush bag.
If you're feeling brave or have plenty of room for a mess, you can let your little one play with the mush out of the center of the pumpkins as soon as they're carved. Prefer a little less mess? Put the pumpkin mush, complete with a spoonful of seeds, into a sandwich bag and let your little one squish away.
Play in the leaves.
Go outside, rake up a pile of leaves, and jump into them. Throw them around, roll in them, and bury your child in the leaves–leaving the head uncovered for little ones. Enjoy crunching leaves on the sidewalk and playing in your leaf pile.
Make an autumn bin.
Take a big box and fill it with goodies from outside: leaves, acorns, nuts, and other fall goodies. Nature is the perfect place to find all sorts of great items to fill your sensory bin.
Mix up some play dough.
The amazing scents of fall are starting to fill the air. Mix up some play dough using pumpkin, cinnamon, cloves, or vanilla: the wonderful scents that go along with the season. Need a more soothing scent? Lavender play dough is a great choice, too.
Create a corn bin.
Popcorn kernels or bulk corn purchased from a feed store will make a great sensory bin that your little one is sure to love! Let them get in it and just play with the kernels or add measuring cups and spoons for mixing fun.
Engaging in sensory activities with your child is fun for both of you, and this time of year is the perfect time to do it! There are more wonderful smells and textures in fall than at any other time of year, and you and your child will love taking advantage of them.