A Fun Welcome Back Breakfast for Your Elf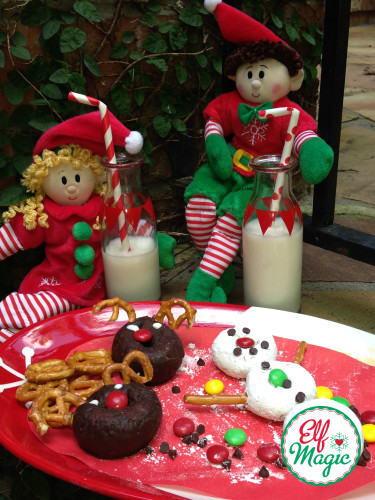 Excitement is building at the North Pole. It's almost time for the Elf Magic Elves to return to spread some Christmas cheer!
Your Elf's arrival heralds the start of a magic holiday season filled with adventures. Kick off the festivities with a warm welcome home. There is no better way to greet your much-loved Elf Magic Elf than a yummy Elf Magic breakfast.
An Elf-approved breakfast of course means lots of sweet treats. Snowy white powdered sugar donuts are a must for your North Pole guests. For a fun and tasty treat, add some pretzels and candies to turn your mini donuts into jolly donut snowmen and reindeer. Don't forget the hot cocoa with a peppermint stick stirrer.
Set your table in cheerful red and green. Gather your glittery holiday ornaments to add a bit of Christmas magic to your breakfast décor.
Dress code: comfy PJ's and your fuzzy slippers. What does a stylish Elf wear for the morning festivities? Cozy red plaid holiday pajamas or nightgown and slippers.
Every celebration need some joyful music. Playing now in Santa's Workshop: holiday tunes by the Elf Magic Elves.
The days ahead will be filled with Elf Magic and a bit of mischief. The Countdown to Christmas begins!
Haven't met your special Elf friend yet? Now is the time to find your Elf Magic Elf!