Keeping Busy Kids Active Even When It's Cold Outside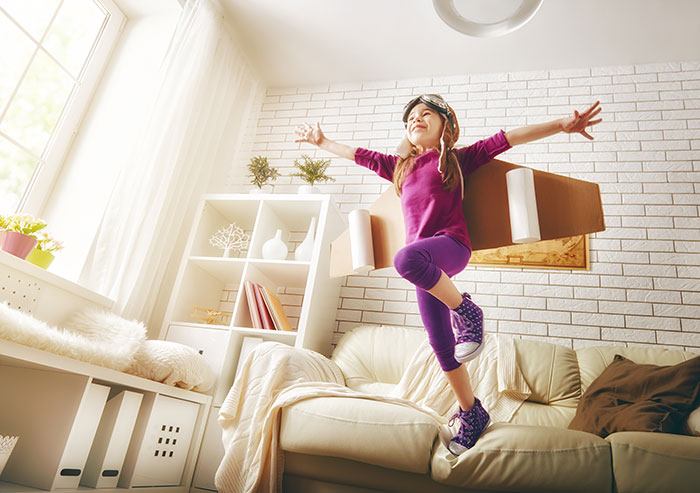 We're officially in that seasonal limbo when the magic of snow and icily frosted windows has run out: it's not really a winter wonderland anymore, but it's not quite warm enough to play outside.
And if there are kids at home, they're probably starting to feel a little cooped up. But just because it's cold outside doesn't mean you can't have fun! Move around and shake off the cabin fever with these three indoor winter activities that will keep the kids (and you) sane for the rest of the season. The best part is that you can join in for some extra bonding time and exercise.
1. Obstacle Course Competition
Pull off the couch cushions, grab some blankets, and get ready to set up a house-wide obstacle course. Make sure to include lots of places for the kids to climb and crawl to get their hearts pumping and their bodies moving. For older kids, get the stopwatch out on your phone and see who can complete the obstacle course the fastest. The great thing about this activity is that kids can set the course up themselves and change it constantly, so it never gets boring.
2. The Indoor Winter Olympics
Kids love competition and they love playing games. Put the two together in an epic Olympics-style competition. Get creative and make up your own events. You can even make them up as you go along. Kid-approved favorites include:
Hula-hoop contests
Crab-walk races
Hot potato
Before things get started, help the kids make medals. Activities like this could easily fill up an entire winter day.
3. Dance Party—With A Twist
When it's cold and dreary outside, nothing beats a good, old-fashioned dance party. Turn up the music, move the furniture, and start a dance contest with the kids. For a cool twist, play "Freeze!" during the dance-off:
Nominate one person to be in control of turning the music on and off.
Everyone dances their hearts out—until the music stops. When the music stops, everyone freezes.
The person caught in the silliest pose wins.
Staying indoors can make everyone feel a little restless, but it doesn't have to be a boring time—or an inactive one. Make the time spent indoors this winter active, fun and memorable.