Kids and Christmas: Make The Fun Shine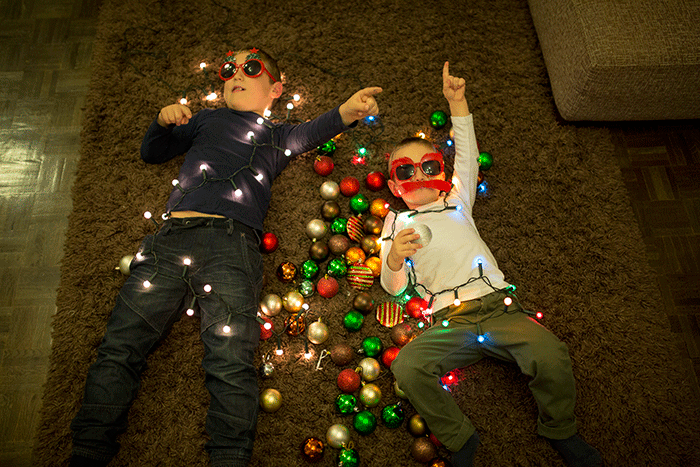 There's always a little extra magic in the air in the days leading up to Christmas. Together, kids and Christmas bring that seasonal wonder out as they can at no other time of the year. If you're hoping to make this holiday season even more magical, slow down, take a look at the world around you, and look for more opportunities to make the fun shine.
Invite an Elf into your home.
If you're hoping to spread holiday cheer all season long, there's nothing more enchanting than an adorable Elf who will bring the kids surprises, offer fun suggestions about holiday activities, and occasionally get into a little mischief. You never know what gleeful surprises your Elf has planned.
Start an advent calendar (no, it's not too late!)
While traditional advent calendars start at the beginning of December, there's no reason you can't make your own start and end dates that extend past Christmas day. Allow the kids to experience a little extra fun each day while they count down to another special date in January. Consider celebrating an observance that the kids will enjoy, like January 27, National Chocolate Cake Day. For a fun twist on the advent calendar, make a paper chain that the kids can watch get shorter and shorter as the special day approaches.
Appreciate the lights.
How many times have you driven past the decorations on your neighbors' houses without ever really taking the time to see them? Go for a drive around your neighborhood with the kids. Drink hot chocolate, munch on popcorn, or just drive by and choose your favorite decorations. If there's a local place with a particularly spectacular light display, especially one you can walk through, take the kids and enjoy! There's nothing quite like the glittering decorations that attract every eye around Christmas time.
Get in the kitchen.
Christmas treats are the best part of the season for many kids, so get in the kitchen together. The kids will love feeling like important helpers. Don't be afraid to make a mess as you decorate cookies, dip candy balls, and take the time to create family favorites, and new, exciting treats. Those hours spent laughing together are some of the most fun you'll have over the holiday season.
Get creative together.
Do you love decorating the house? Making handmade decorations? Creating special gifts for the wonderful people in your life? Instead of hiding all that creativity behind closed doors, engage with your kids and let them help! Not only will it add an extra personal touch that many of your recipients will love, it will help your kids learn how to take the magic with them long after they're grown.
Christmas certainly is the most wonderful time of year. People are kinder, days are shorter, and there are so many opportunities to smile. Lights shine just a little brighter and there's so much to be grateful for. Especially during Christmas, kids help the adults appreciate those small moments of magic that are often overlooked. Don't let this season pass you by without adding a little more cheer and more magic to your days.