The Best Memorial Day Projects and Books for Kids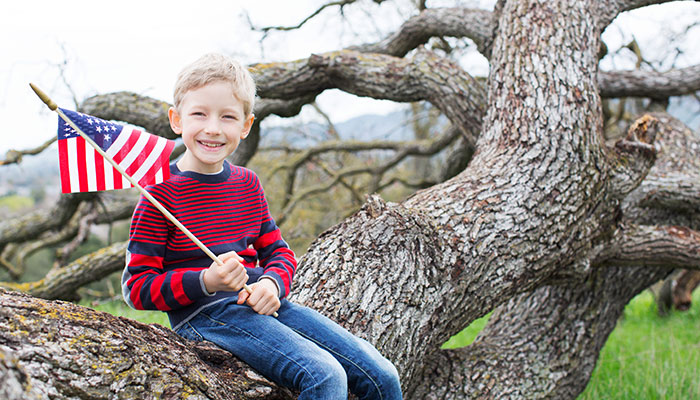 How will you celebrate Memorial Day this year? Kick start the summer fun with these Memorial Day projects for kids.
For The Little Ones
Activity: Make an egg carton Uncle Sam.
Glue two egg-carton cups together to form a body and paint them blue.
Glue two more egg cartons together and paint them flesh colored for the head. The body will be upright and the head oriented the long way.
Add eyes with paint or marker, and some yarn for hair.
Add construction-paper arms, a couple of feet, top it off with a hat, and you have yourself a little friend named Uncle Sam!
Read: Who Stole Uncle Sam?
Two young kids try to find out what happened to a war veteran in their town. Follow their adventure and help them solve the mystery of where he went.
For The Middle Ones
Activity: Make a patriotic flag box.
From a craft and hobby store, get an unpainted box with a lid.
Paint the box red, white and blue.
Don't forget to paint stars, or pick up some stars that can be glued on. The sky's the limit with the decorations, so get crazy! Glitter and stickers are both good ideas.
Read: Memorial Day
This picture book is beautifully illustrated and introduces children to the meaning of Memorial Day, while also touching on some of its history.
For The Older Ones
Activity: Make red poppies.
Start with a three-inch circle of red construction paper. Cut a slit in the circle, all the way to the middle.
Overlap the cut edges, so that you form a cone. Glue that together.
Make a ball at the end of the pipe cleaner (which will be the center of the poppy), and poke it through.
Write the date on a strip of paper, and glue that paper around the pipe cleaner at the base of the poppy.
Read: "In Flanders Field," by John McCrae, the poem that inspired the poppy tradition.
Memorial Day is not just a day of barbecues and celebrating summer's arrival. It is a day to remember those who served our country. You can help the little ones in your life learn about Memorial Day while having a fun time with these educational crafts.