New Thanksgiving Traditions For Your Family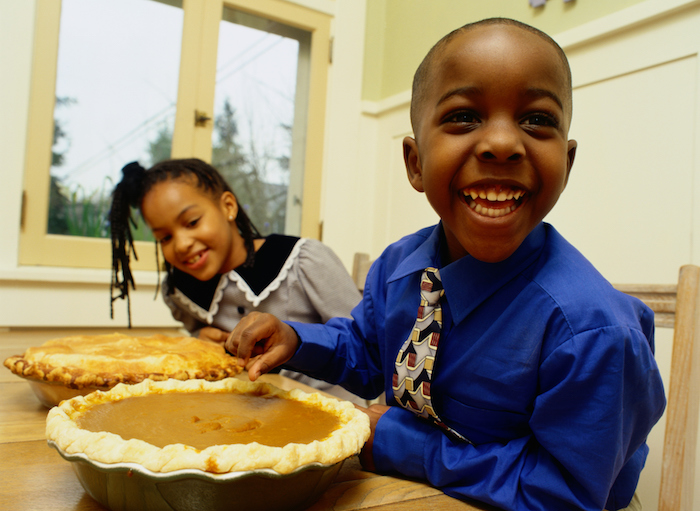 The family gathers around the table and later on, everyone enjoys the Thanksgiving Day Parade and watches a football game. Is this a familiar scene? It's certainly a joyful time, but you have to admit that it's the same thing every year.
Holidays are so wonderful because we look forward to being with family, and we anticipate the traditional activities. But this year, consider doing something exciting: liven up your family gathering  by starting a new holiday tradition that everyone—from grandchildren to grandparents—will cherish.
Thanksgiving is fast approaching, but you still have time to do some planning. Here are five unique family-friendly ideas for creating new Thanksgiving traditions:
1.Thankful Turkeys
Remember how to make those hand-print turkeys you did in elementary school? Of course you do! Start a family tradition of writing down five things you are thankful for on each of the five-finger feathers of your turkey. Once the turkeys are finished, write the owner's names on the paper, and use them as place settings at the Thanksgiving table.
This activity is a fun way for family members to connect: the adults can help the children make their hand prints, and everyone will enjoy reading what the others are thankful for this year.
2. Pie Baking Contest
If your family consists of more than one or two adults —and even some older kids who have learned how to bake—start an annual pie-baking contest. Each year, the family elects a panel of judges, for whom the pies are baked the day before Thanksgiving. Then, on Thanksgiving day, the judges taste each pie, and a winner is declared.
Don't worry about giving away a prize; the pride of being declared the best baker in the family will be enough! This tradition is so popular because at the end of the contest, the whole family gets to sample the pies. A true win-win!
3. Black Friday Preparation
Thanksgiving is the day when we all feel okay about relaxing with our loved ones, eating, and enjoying our rest. But the day after Thanksgiving—Black Friday—often turns into the opposite: lots of stress and running around to get the best deals.
Why not make the day after Thanksgiving fun, too? Designate one of the days before Thanksgiving as the official Prep-For-Black-Friday day. Assemble a team of family members who are good at finding the best deals. Make an itinerary of where everyone will go and talk about the gifts you want to buy. Once you have a list and a plan, you'll be able to have fun shopping together. This is a great tradition for those family members who can't pass up a bargain.
4. The Gratitude Jar
A week or two before Thanksgiving, start a Gratitude Jar—a tradition that encourages everyone to count their blessings. Simply ask everyone in the family to write down one thing they are thankful for every day, and then place it in the jar. On Thanksgiving Day, open the jar and read aloud what everyone is grateful for.
Each member of the family will enjoy hearing what everyone else is thankful for. And there are always surprises to make it a memorable event.
5. The Elf Magic Taste Tester
Your Elf knows that Thanksgiving is coming—and that means it's nearly Christmas. He's excited! He can't wait to get out and greet the family—especially the children. Start a new tradition this Thanksgiving that is for the kids, but which the whole family will enjoy.
Before Thanksgiving dinner, tell the children that you can hear the Elf, and that he wants to be a part of the festivities. If he decides to come visit, let all the family members greet him. Make a special place for him at the dinner table, and let him taste all the delicious food. This is a great tradition for each Thanksgiving, because it signals the magical transition to Christmastime.
The holiday season is unlike any other time of the year: it's when life-long memories are made, and family bonds are strengthened. Help make your family's Thanksgiving even more unforgettable by starting a unique tradition that everyone will look forward to for many years to come.