Soup-erb Supper Idea: North Pole Noodle Soup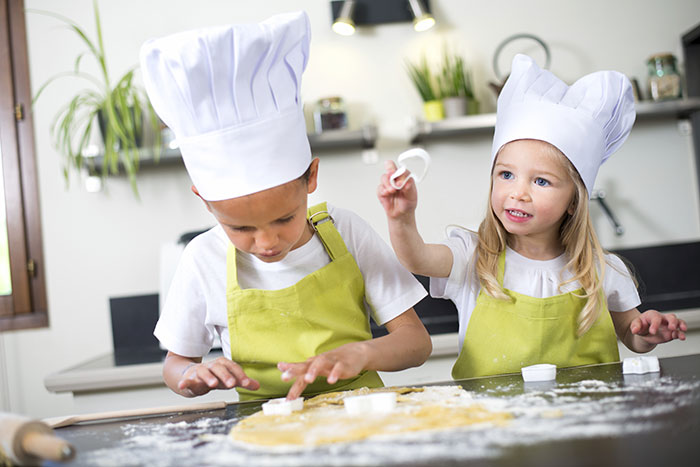 The Elves are back home with Santa, cheerfully planning all the fun for next Christmas. Although it's starting to warm up here, Santa's workshop is still a winter wonderland, and the Elves are enjoying their many wintertime activities. For those days when it still feels as cold as the North Pole and you can't think of what to make for dinner, enjoy this fun winter recipe for North Pole Noodle Soup, sent with love from the Elves themselves.
Yes, you'll be making the noodles from scratch, which is a lot easier than it sounds—and a ton of fun for the whole family. The soup can be made vegetarian by omitting the chicken and using vegetable broth or water in lieu of chicken broth.
North Pole Noodle Soup
For the soup:
1 large onion, chopped
2 stalks celery, chopped
1 medium potato, diced
Water or broth, to cover
Optional: 3 – 4 lbs. chicken pieces
For the noodles:
4 cups flour, plus extra for dusting
4 eggs
¼ cup vegetable oil
Rolling pin
Small-size Christmas cookie cutters
Combine the chopped onion, celery, diced potato, and broth or water in a large cooking pot, along with the chicken, if using. Bring to a boil and simmer until all ingredients are thoroughly cooked, including the chicken.
Now, you'll make the noodles:
On a large surface, make one or two small "bowls" out of the flour. Crack the eggs into the flour "bowls."
Using your hands, slowly combine the flour into the eggs. When all of the flour and eggs are mixed together, begin to form the mixture into a ball. You may need to add flour as you go to make the dough nice and solid.
When the flour-and-egg ball is solid enough to sit on the counter by itself, slowly knead in the vegetable oil. This will make the dough elastic and easier to roll out. Add a little water if the dough is still too stiff.
Sprinkle a little extra flour on the counter and slowly roll the dough into a flat circle with a rolling pin. Flip the dough over several times and sprinkle it with a little flour—which the Elves like to pretend is snow—to prevent the dough from sticking to the counter.
When your dough circle is flat like a pizza or a big cookie—but not too thin—carefully use the cookie cutters to create festive noodles to drop into the broth. Let the fresh noodles simmer in the broth for 15 minutes.
You just made noodles from scratch! Congratulate yourself and enjoy your noodle soup from the North Pole.