Plant a Kid-Friendly Garden With Your Elf This Spring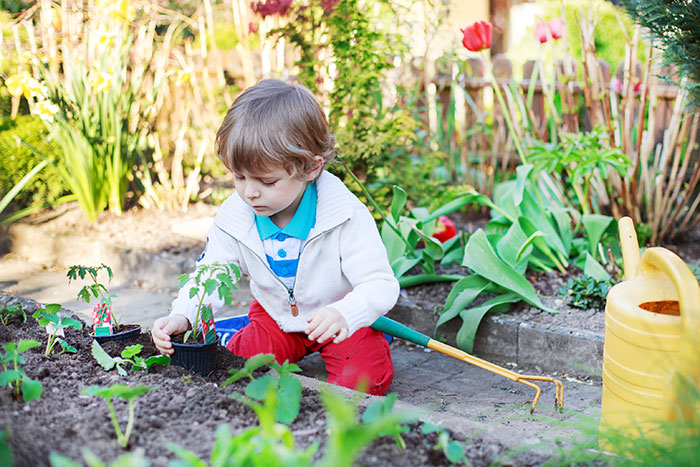 When it comes to spring activities, there are countless options to keep kids busy. However, few are as rewarding (or as tasty) as planting a garden.  The best part about a garden is that it can be as expansive or as small as you want, depending on the space you have to work with. Here are some kid-friendly gardening ideas to help you get started:
1. Pick something easy to grow in your garden.
Children will be most interested in planting a garden in which they can see noticeable progress that's a direct result of their efforts. Here are some fast-growing seed options:
Sunflowers: If you have the outdoor space, one or two are plenty.
Lettuce: Not only is it quick-growing, but it's an effective way to encourage kids to make healthy eating choices.
Snow peas: The best part about these is that kids can eat them right off the vine.
Cherry tomatoes: Easily grown in containers, cherry tomatoes are fun to eat straight from the vine. Just watch out for tomato worms!
2. Turn gardening into a learning experience.
Children are great learners. They do it all day, every day. Gardening is a great way to teach children about the seasons, as they observe the lifecycle of their gardens through the summer, fall, and winter. Supplement their learning by scheduling trips to large community gardens and visit your local library to pick up books on gardening.
Make their learning experience unique by asking their Elf to visit, who wants to learn alongside them. Since Elves live at the North Pole, they don't see many spring gardens. Ask the kids to teach what they're learning to the Elf. After all, teaching is one of the best ways to consolidate learning.
3. Encourage responsibility and nurturing.
Gardens are a good introduction to the importance of care and responsibility. Tending to a garden is no small feat, and successfully remembering to water, weed, and take care of a garden is a huge accomplishment for any child. They'll gain confidence in their abilities to be successful in projects that they are committed to.
While everyone is eagerly planning and planting their own gardens, make sure to get your Elf garden-ready with our spring fashions. And have fun making memories and growing tasty produce with the kids this spring.