Fall Pumpkin Decorating Ideas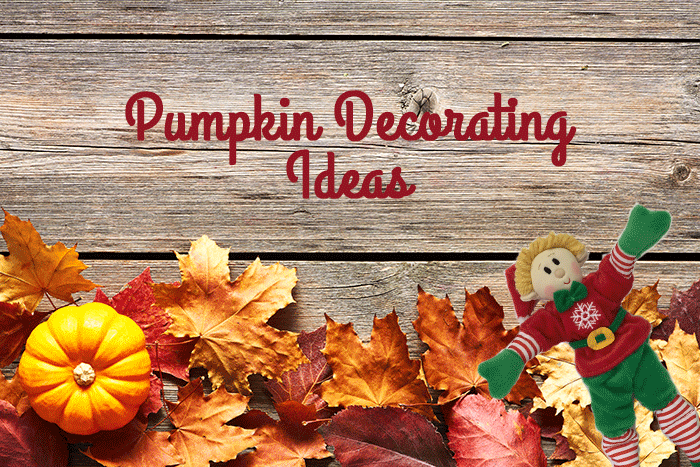 Fall is here, which means Christmas is near. The leaves are falling and the air is getting a little chillier. It's a perfect time to ask your Elf to come visit for Halloween and head outside to do a fun activity. Lots of Elves like to stop in for a day or two to hang out with their friends before busy season kicks in. So write to Santa to ask your Elf to visit and head to a pumpkin patch to pick out the best pumpkin.
If your Elf appears, take him on a nature walk to find some pretty leaves, even if that is just your back yard. You only need to gather a few, so make sure they are the prettiest ones! Here are a few options to decorate or carve your pumpkin.
Materials Needed
3-6 sturdy dried leaves, depending on the size of your pumpkin
Magic marker, pen or pencil
1 pumpkin
*optional nail and carving knife. This requires adult supervision (I saw on SharpenedKnife.com, a special kid-safe pumpkin carver! It's worth checking out, even just to feed the curiosity.)
Christmas lights/candle if you carve your pumpkin
Now decide where the leaves will look best on your pumpkin. When you have found a good place hold a leaf flat to the pumpkin and trace the shape onto your pumpkin with a magic marker or a pencil. Do this with all of your leaves all over the pumpkin. Be careful to not make the leaves too close together if you want to carve your pumpkin.
Pumpkins can be decorated without carving. You and your Elf might rather paint or color your leaf shapes with fun colors. Grab paint and a paint brush or markers and color in the shapes you just traced.
If you would like to carve your pumpkin, you can have an adult cut off the top of the pumpkin and scoop out the seeds. Carefully (*and always with an adult) use the nail to poke little holes in your leaf outlines. The little holes make it much easier to cut out the leaf shapes for the lights to shine through. Once your leaf shapes have been cut out of the pumpkin, you can put Christmas lights or a candle inside to make your pumpkin sparkle.