Reindeer Cookies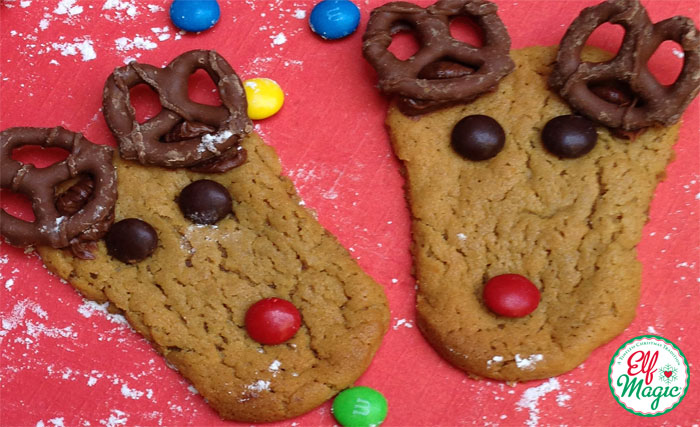 (*This activity requires adult supervision.)
The Elf Magic Elves have many pets at the North Pole but the reindeer keep them very busy. After a long day in the stable, Mrs. Claus always treats the Elves with these festive cookies.
Elves are great baking partners. To find an Elf of your own, click here: Meet the Elf Magic Elves!
Shopping List:
Easy – Store bought gingerbread dough or if not allergic – peanut butter dough
Moderate – homemade ginger bread dough / peanut butter dough recipe
Chocolate-covered mini pretzels
Mini brown M&Ms
Regular-sized red M&Ms – if you don't want to buy minis regular brown M&Ms will work
Directions:
Form dough into 1-inch balls. To make reindeer-shaped cookies, pinch the bottom of the ball slightly to form a point, and then gently flatten with your hand. Space cookies about 2"inches apart on a greased cookie sheet and bake by package directions, watch until set or just beginning to brown.
Remove from oven and immediately and gently press two mini pretzels into the tops of the cookies for the reindeer's antler. With the M's not showing, press two brown M&Ms in for their eyes and one red or green M&M for the nose.
Allow to cook a couple of minutes on the baking sheet and then transfer to a wire rack or flat surface to cool.