Egg-celent Spring Craft With Egg Plants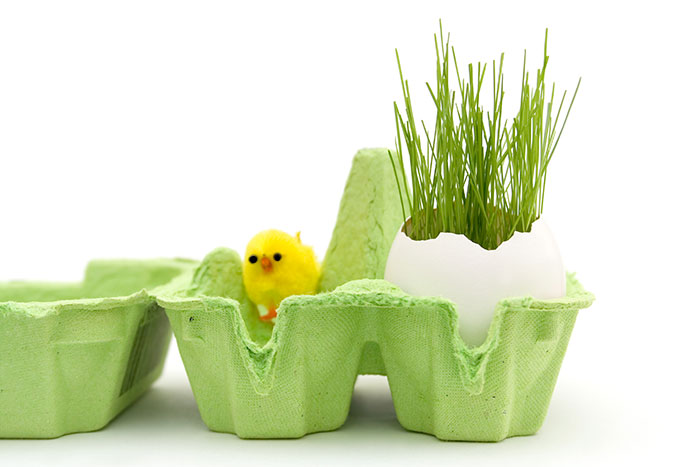 Want to do something unique with the kids? Look no further than your own kitchen for kid-friendly spring activities. Crafting egg plants are a great way to spend a spring afternoon. No, we don't mean eggplants the vegetables—we mean plants grown in eggshells!
Why eggs? Eggshells are full of calcium and egg whites, which provides nutrients to soil and prevents slugs and snails from eating young sprouts. As the plants grow, you can transplant them into pots or into the ground, crumbling the shell around the root just before putting them into the soil.
Here's what you'll need to get started:
A few hollowed-out eggshells, with about a third of the shell cracked off from the top, enough to fill half or all of an egg carton
An egg carton
One cotton ball
A knife
Some potting soil
A small spoon
Seeds—herbs or flowers work best
Step 1: Crack the eggshell at the top. Use the knife to tap around the pointy part of the shell and then at the top of the point. If you do it this way, only the top will crack off, leaving most of the eggshell intact.
Step 2: Empty the egg into a bowl, seal, and refrigerate. You can scramble it for breakfast the next day or use it in a recipe. Do not rinse out the shell. You want those nutrients for your plants.
Step 3: Set each eggshell into a holder in the egg carton. Tear off a small piece of the cotton ball and put it in the bottom of the shell. This will help drain off water from the soil. Use the small spoon to fill the eggshell with potting soil.
Step 4: Gently make a hole in the soil and drop in a few seeds. Cover the seeds with soil. Lightly water the soil.
Check the seed packet to see how much sunlight the seeds require to grow, then set your eggshell planter in a window with the proper sun exposure. Very soon, you will see your plants sprouting—it's egg-citing!